Update 23.11.2022
Neue Details zu "Luxchat"
Als letzte Woche ein Luxemburger Messengerdienst namens Luxchat angekündigt wurde, waren viele Details unklar. Die woxx hat nachgefragt, auf welchem Standard der Dienst beruhen wird – es handelt sich nicht um eine Eigenentwicklung.
Der staatliche Messengerdienst Luxchat wird auf dem Opensource-Standard "Matrix" basieren. Am 16. November hatte Digitalisierungsminister Marc Hansen (DP) im Rahmen der Luxembourg Internet Days angekündigt, dass der Staat demnächst eine eigene Messengerapp namens Luxchat veröffentlichen würde. Um es Beamt*innen und staatlichen Angestellten zu ermöglichen, sicher untereinander zu kommunizieren, sei eine derartige Lösung notwendig. In einem zweiten Schritt soll gemeinsam mit LU-CIX und der Chambre de Commerce auch der breiten Öffentlichkeit eine Version zur Verfügung gestellt werden. Auf Nachfrage der woxx hin bestätigte das Digitalisierungsministerium, dass es sich bei dem verwendeten Standard nicht um eine Eigenentwicklung handelt, sondern "Matrix" benutzt wird.
"Der Matrix-Standard wird auf internationaler Ebene von vielen Instant Messaging-diensten benutzt und wird von einer internationalen Gemeinschaft von Firmen und Entwicklern weiterentwickelt. Eine hohe Sicherheit (End to End Encryption) und Interoperabilität mit anderen Systemen ist garantiert", so Paula Almeida vom Digitalisierungsministerium der woxx gegenüber. Bei "Matrix" handelt es sich um einen offenen Standard, der Chat- sowie Video- und Audiofunktionen ermöglicht. Es gibt keine zentralen Server und mehr als eine einzige App, sodass Nutzer*innen große Wahlfreiheit haben. "Matrix" unterstützt auch die Kommunikation mit vielen anderen Messengerdiensten, wobei die Ende-zu-Ende-Verschlüsselung dabei nicht mehr gewährleistet wird. Die Regierung will Luxchat "in den nächsten Monaten" veröffentlichen. Wie die Moderation des öffentlichen Dienstes gestaltet wird, ist noch in Ausarbeitung.
---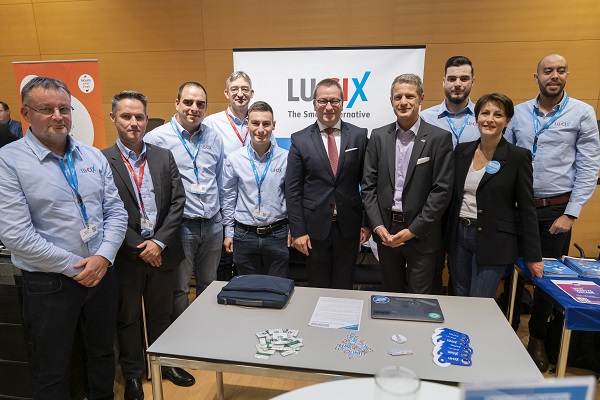 Marc Hansen, Luxembourg's Minister Delegate for Digitalisation, surrounded by members of the LU-CIX team; Credit: LU-CIX / Emmanuel Claud
On Wednesday 16 November 2022, on the second day of this year's Luxembourg Internet Days event, Marc Hansen, Luxembourg's Minister Delegate for Digitalisation, announced the launch in the coming months of a new instant messaging service called "Luxchat", fully developed and hosted in Luxembourg.
In his address to a large audience of IT experts attending Luxembourg Internet Days 2022, Minister Delegate Hansen made a point of stressing how the issues of data management and processing are essential for any successful digital transformation.
Government agencies have a substantial amount of data that can help improve digital processes or services. Therefore, data security and digital sovereignty are at the heart of several projects of the Ministry for Digitalisation which are about to be completed.
The Luxchat application is the result of the ministry's desire to provide a secure means of professional communication within the public sector. It is built on a proven open source standard and runs on a redundant and secure infrastructure located in Luxembourg.
This new instant messaging service will be launched in the coming months. Initially, it will be a version intended only for agents of the Luxembourg State (civil servants). In view of the perceived advantages that this application presents in terms of security, the Ministry for Digitalisation has joined forces with LU-CIX ASBL, organiser of Luxembourg Internet Days, and the Luxembourg Chamber of Commerce to subsequently launch a version of Luxchat that is open to the entire population.
During his address, Minister Delegate Hansen also recalled that the Luxembourg State's electronic wallet will soon be launched. This e-wallet for official documents will initially include identity cards and driving licences. It will thus allow its holder to identify him/herself or present his/her driving licence without having to have his/her physical documents on him/her.
Minister Delegate Hansen stressed that these projects are also in line with the OECD recommendations presented in the study "Digital Government Review of Luxembourg - Towards more digital, innovative and inclusive public services". He concluded by stating that the conclusions of the OECD study as well as the results of the latest eGovernment benchmark are very encouraging and stimulating: "It is now up to us to build on this momentum and provide citizens with online services that take advantage of cutting-edge technologies".
Chronicle.lu     16.11.2022
Posted on